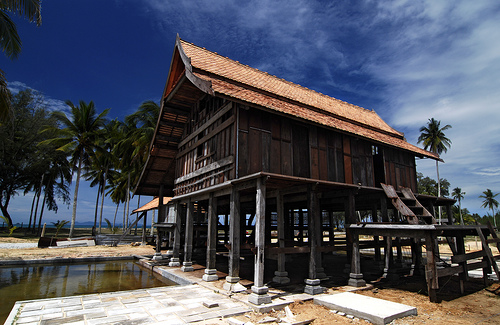 By Andrew Sia
An oasis of luxurious kampung living, Terrapuri also aims to preserve Terengganu's botanical and culinary heritage.
APART from the hardware of the homes themselves, the Terrapuri project is also keeping alive the crucial software of carpentry skills needed to maintain heritage homes.
Alwee Abd Rahman, 44, the resident maintenance manager, has been a carpenter since he was 13, following in the footsteps of his father Abd Rahman Abdullah.
"My father and grandfather were wood workers who made boats and houses," he says. "I learnt much from them, for instance, how to use wooden pegs instead of nails when joining wood together."
His son Alhuzaifi Alwee, 20, is, in turn, following his footsteps as an apprentice.
"As most of the kampung folks now want concrete houses, the old skills of traditional builders are being lost," says self-made entrepreneur Alex Lee Yun Ping. "Yet conservation can become a whole industry in its own right, like in Europe."
Alwee is not just preserving the past but also innovating new products. The anthology of antiques here includes many traditional Malay beds which are sized somewhere between today's Queen- and single-sized beds (requiring special mattresses to be commissioned for them).
The founder of Terrapuri, Alex (as he prefers to be called), says that since there were many more beds than needed at the resort, he discussed with Alwee how to turn some of them into benches.
"The resort could easily have just bought benches from Bali for RM400," says Alex. "But we wanted our own Terengganu identity. You won't see these benches anywhere else."
This is the place to experience kampung living in style. From breakfast on your villa's verandah with the classic Terengganu dish of
nasi dagang
(spicy sweet tuna curry with rice) to dinners of
sup bujut
(local chicken soup),
ayam masak merah
(tomato curry chicken) and
budu
(fermented anchovies) at the high Rumah Tanjung overlooking the pool and surrounding forest.
Instead of parachuting in some hotel managers from Kuala Lumpur, Alex has chosen the approach of "community-based tourism" to ensure that some income from visitors will flow towards people who live in or around Penarik. Thus
tudung-clad
village women provide a most homely welcome as they act as receptionists, serve food or do housekeeping, while chatting about your day's activities, or about life in Terengganu.
Food is also sourced from nearby villages, and a must-do day trip here is out to the nearby floating aquaculture farms in the river. Here, I watch Alex pulling up a whole slew of live oysters and prying them open for consumption on the spot!
The idyllic kampungs around the resort are great for cycling, and I see fishing boats, orchards, a turtle hatchery and even a breeder of ornamental cockerels known as
ayam serama
. In fact, the Setiu Wetlands surrounding Penarik offer a host of eco-tourism delights, including trips out to the nipah and mangrove swamps. An even more magical experience awaits me at night as fireflies on the mangroves create flashing dots of light…
Penarik is just 20 minutes from Merang jetty, the jumping-off point for day trips to the islands of Pulau Redang, Pulau Lang Tengah and Pulau Bidong. There's nothing like some snorkelling to work up an appetite!
But for something more unusual, I visit the haunting gelam forests around the resort. Alex says the movie
Bunohan
was filmed here, and it's easy to see why because the trees exude a mysterious charm with their gnarled barks, spindly branches and draping leaves.
Indeed, it's not just architecture that is being preserved here, but also the state's botanical (and culinary) heritage. Alex is working to create a rich garden of herbs – such as
kadok
leaves (used for otak otak),
kelsom
(laksa),
ulam
(salads) pandan, lemongrass, ginger, galangal, turmeric,
bunga kantan
(all used in curries) and the aphrodisiac
tongkat ali.
Apart from the normal mango and soursop, he is also planting more "kampung" trees such as
sukon
(breadfruit),
kerkut
(which has small cherries that attract birds),
cermai
and
gajus
(both can be mixed with belacan into a condiment) and
melinjau
(used to make a type of local crackers). Meanwhile, the flowers from frangipani,
cempaka, melor, kenanga,
gardenia and
kesidang
trees will (once the trees mature) impart a bouquet of natural fragrances.
The wetlands on one side of the resort are rich with
jambu laut, gelang, pandan laut, paku laut
(
cycads rumpii
),
kerecut
reeds (which can be weaved into mats) and, of course, nipah (the leaves are used for attap roofs). And if you ever wondered what inspired Terengganu's woodcarvers to create their gloriously intricate patterns, look no further than the surrounding plants such as
pepulut, sesayap, ketam guri, bayan peraksi, bakawali, kangkong
and
ketumbit.
Yes, the plants here can be eaten, and even inspire art, too!
Indeed, it's heartening that heritage at Terrapuri is being celebrated on a deeper level beyond architecture, by delving into ancient carpentry, traditional cooking, pristine wetlands and a rich botanical inheritance.
blogger: Thanks to Alex- Ping Anchorage
sources: http://thestar.com.my