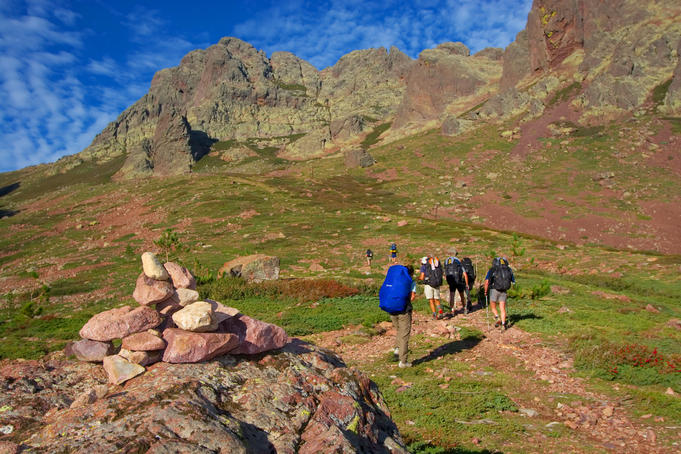 These 10 classic treks are for serious walkers. All of them require a sturdy pair of lungs, fit legs and a good amount of preparation. However, if you choose to go on any of these trails then you will be rewarded with experiences that last a lifetime. In no particular order:
1. GR20, France
2. Inca Trail, Peru
3. Pays Dogon, Mali
'The land of the Dogon people' is one of Africa's most breathtaking regions. A trek here can last anywhere between two and 10 days, and takes in the soaring cliffs of the Bandiagara escarpment inlaid with old abandoned cliff dwellings. Dogon villages dot the cliffs and are an extraordinary highlight of the journey. The Dogon are known for their masked stilt dancers, intricately carved doors and pueblo-like dwellings built into the side of the escarpment.
4. Everest Base Camp, Nepal
Reaching a height of 5,545m (18,193ft) at Kala Pattar, this three-week trek is extremely popular with those who want to be able to say, 'I've been to the base of the world's highest mountain'. The difficult trek passes undeniably spectacular scenery and is trafficked by Sherpa people of the Solu Khumbu. The heights reached during this trek are literally dizzying until you acclimatise to the altitude, and the continuous cutting across valleys certainly has its ups and downs.
5. Indian Himalayas, India
6. Overland Track, Australia
7. Routeburn Track, New Zealand
8. The Narrows, USA
9. The Haute Route, France-Switzerland
10. Baltoro Glacier & K2, Pakistan
This corridor of ice leads to the colossal peak of K2 (8,611m, 28,251ft), the world's second-highest peak. This incomparable trek traverses some of the most humbling scenery on the planet. What begins following icy rivers boldly goes to the guts of the glacier before leading to the granite pyramidal mountains including Paiju (6,610m, 21,686ft), Uli Biaho (6,417m, 21,053ft), Great Trango Tower (6,286m, 20,623ft) and ultimately K2. If the 15 days doesn't floor you, take side trips to more moraine-covered glaciers.


Read more: http://www.lonelyplanet.com/australia/tasmania/travel-tips-and-articles/76228#ixzz2uQQRSPLU